January 20, 2016 | Schweiger Vineyards
Burgers stuffed with Brie and Spicy Scallion Pesto, paired with Schweiger Merlot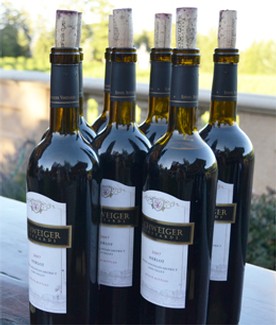 Remember that friend of yours who seems to get along with every crowd, in any situation?
In the world of fine wine, that friend is MERLOT. A lot of people quote that one *unfortunate* line in Sideways, a movie otherwise loved by wine drinkers. The truth is Merlot is a classic varietal that pairs well with all sorts of fare thanks to her fruit forward, easy drinking character. In fact, the most widely planted grape in France's Bordeaux region isn't Cabernet Sauvignon; it's Merlot. The warm, gradual summers of the Napa Valley are ideal for this grape. Below is a recipe to pair with our Winemaker Andy's rendition of this classic varietal that grows so beautifully in this mineralistic Spring Mountain terroir.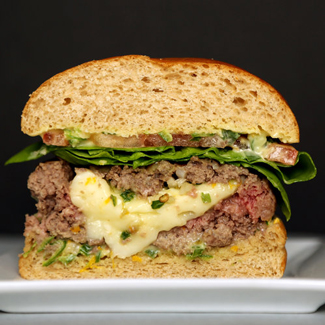 Burgers stuffed with Brie and Spicy Scallion Pesto
1 1/2 pounds ground beef
Salt and freshly ground pepper
4 ounces Brie, rind removed, cheese cut into 4 slices (We love Cowgirl Creamery's Mt. Tam Triple Cream)
1/4 cup Spicy Scallion Pesto (see below)
1/4 cup mayonnaise
4 hamburger buns, split (Up the ante! Use pretzel buns!)
Tomato slices and lettuce, for serving
Spicy Scallion Pesto
4 scallions, thinly sliced
2 garlic cloves, minced
1 fresh hot chile (or jalapeno), seeded and minced
1/2 teaspoon finely grated lemon zest
1/4 teaspoon cayenne pepper
2 tablespoons extra-virgin olive oil
1/2 teaspoon salt
First, get your grill ready while having a glass of Schweiger wine.
Prepare the Spicy Scallion Pesto:
In a small bowl, combine scallions, garlic, chile, lemon zest, cayenne, olive oil and salt using a miniblender )or mortar and pestle if you're fancy). Mashing or a rigorous stir will also do.
Next, the burgers:
Season the ground beef with salt and pepper.
Form into eight 4-inch patties that are slightly thicker in the center.
Top 4 of the patties with a slice of Brie and a spoonful of the Spicy Scallion Pesto; then top with the 4 remaining patties, pinching the edges to seal.
Brush the burgers with oil and grill over high heat, turning once or twice, about 8 minutes for medium-rare meat.
Meanwhile, mix the mayonnaise with the remaining Spicy Scallion Pesto. Grill the buns until toasted.
Spread the mayonnaise/pesto mixture on the bottoms of the buns and top with the burgers, tomatoes and lettuce. Close the burgers and serve with a glass of Schweiger Vineyards Merlot! Cheers!
Comments
Commenting has been turned off.