August 3, 2015 | Educational | Andy Schweiger
Taming of the Screw (or...Andy's Portugal Trip Part One)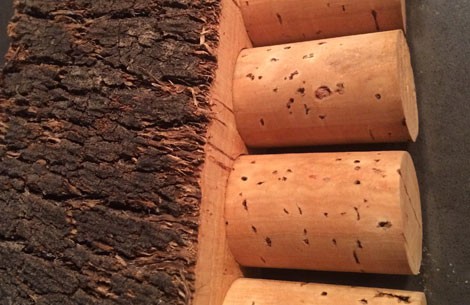 Preface: My relationship with wine began at a very young age. Growing up, my parents and grandparents would enjoy many meals with a glass of wine. I do not remember a time in my life when wine was not present at the dinner table; sometimes the kids even got to taste the wines, thus began my life long romance with wine.
The challenge was, sometimes into this romance would come problems. A bottle of wine wouldn't taste as good as one had hoped. Perhaps the bottle leaked, sometimes it had been stored too warm, but worst of all would be a chemical aroma of something just not right. Wet cardboard, chlorine, and muted fruit. Not until later in my life did I realize what cork taint was but trust me, that was it.
When I got to the point of my career when I was responsible for purchasing cork closures for wine, I was both honored and horrified. Honored that my employer trusted me to make a purchase in the scale of tens of thousands of dollars. Horrified because if I chose the wrong lot from the wrong manufacturer, hundreds of cases may be ruined, all due to cork taint. I relentlessly pursued as much information I could about different suppliers, their sourcing, their QC practices. Sometimes I'd split orders between multiple suppliers to minimize the exposure.
Of all the varietals I make, Sauvignon Blanc has the most delicate aromatics which can easily be adsorbed into the woody matrix of a cork closure. After 4 years of watching the high tone components responsible for bright citrus and tropicals get sucked away after twenty months in bottle, I was quite frustrated. Add to this equation that the lighter style of the Sauvignon Blanc would show off cork taint quite readily, and I was ready to do something severe. It was time to switch the Sauvignon Blanc to screw cap.
I conducted lots of research and talked with many winemakers, most notably Randal Grahm who was very generous of his time, to adjust my winemaking style ever so slightly so as to ensure the beauty of the wines under screw cap. With the release of our 2006 Sauvignon Blanc, I jumped on board the screw cap train and never looked back. Our customers LOVED the change, even though there was the occasional phone call of someone ruining a good knife trying to cut the "foil" only to find out there was no cork present.
Over the years, I continued to do the best I could to source only the best corks for my reds...but cork taint still happened occasionally. My various cork suppliers would brand my corks and include an identifying mark to their company. Over time, I realized that one supplier out preformed all others. In 2012 I made two serious decisions. Decision one: based on my experience with my Sauvignon Blanc, I could make changes to my winemaking protocols to make my Chardonnay be a bright, citrusy wine reflective of terroir and close it in screwcap. Decision two: For the first time in my career, I purchased all my corks from one supplier; my most reliable one, M.A. Silva. Every year thereafter, I would look at samples from all my past suppliers and entertain new companies. Every year, I purchased 100% from Silva...except for that screw cap portion. I have stated in the past that I believe that the screw cap is the best possible closure for these wines.
Then, the unexpected happened. In February 2015, my cork sales rep emailed me with this cryptic message, "Make sure your passport is current and you have June 19-26 free."
M.A. Silva was sending me to Portugal! This is the kind of perk normally reserved for big producers and heavy hitters...I'm just a small producer of premium Napa Cabs. Besides, I'm a vocal proponent of the use of screw caps. I've even helped other winemakers transition out of cork into screw cap. Regardless, I jumped at the opportunity and chose to approach this trip with a very open mind. I wanted to learn more, see more, and experience first hand the cork harvest; and maybe even drink some great wines along the way.
What will be following over the next several months is the culmination of my experiences of that magical week. Along with a brief explanation of what causes cork taint (my name isn't Google), I'll be sharing stories, images, and videos of the cork harvest, processing, and unique steps that no cork supplier other than M.A. Silva takes to ensure maximum quality. It's been an amazing journey, and I can't wait to share it with you.

Comments
Commenting has been turned off.