December 5, 2018 | Andy Schweiger
Sharks Sky Box for Camp Fire Relief!
In addition to what we have set aside of our 2014 Chardonnay to be specially designated for the Camp Fire Relief efforts, we have partnered with an anonymous donor on an exciting auction lot!
The winner is invited to bring your party of 8 to join us in a Sky Box at the SAP Center in San Jose on December 22nd to watch the San Jose Sharks play the Los Angeles Kings at 1pm.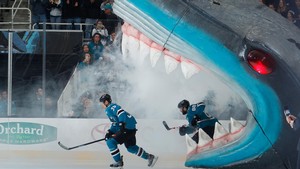 These are some of the most luxurious boxes in the sporting world. You will be hosted by the owners and winemaker of Schweiger Vineyards, pouring a selection of our estate bottled wines during the game along with some fun food. As a rare treat, an alumni of the Sharks may drop by the box for a meet and greet. This package also includes parking for two cars in Lot A. Schweiger Vineyards will be donating 100% of the proceeds of this auction to pre-qualified charities serving the survivors of the Camp Fire. Tickets will be sent via email or pick up at will-call.
Over the past few weeks, much of the nation was gripped in horror as we watched the entire town of Paradise reduced to ashes in a matter of hours. This fire is now the most destructive in California history, and while hours from our winery in St. Helena, this hits close to home.
Our goal is to raise over $150,000 for the relief, recovery, and rebuilding of our neighbors to the north affected by the Camp Fire.
If you have not ordered any of our Camp Fire Relief Chardonnay, it can be ordered on our website here or by calling us at 707-963-4882. We plan to begin shipping orders no later than December 17th.
Comments
Commenting has been turned off.