January 20, 2016 | Recipes | Schweiger Vineyards
Sally Schweiger's Cabernet Marinade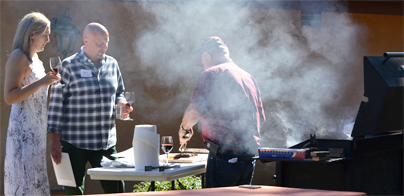 If you've been to one of our Wine Club Parties (What? You haven't been? Well join us for the next one!) you've seen Fred Schweiger manning the BBQ, grilling his now legendary flat iron. When people RSVP, people literally ask me "Will Fred be grilling again??" and if you've had it, you know what I'm talking about. It's classic: tender, juicy, and flavorful~ grilled just right, and he credits the marinade. What's in it, you wonder? Well, ask no more! Mrs. Sally Schweiger has given me the recipe to her incredible marinade. Of course we suggest you pair whatever you make with a glass of Schweiger Cabernet. Enjoy.
This will be enough marinde for *UP TO* 1.5 lbs of steak, whichever cut you prefer.
1/3 cup soy sauce
2/3 cup Schweiger Vineyards Cabernet Sauvignon
2 tablespoons Sally's Steak Seasoning*
*Sally's Steak Seasoning:
1.5 tablespoons kosher salt**
2 tablespoons crushed black pepper
1 tablespoon granulated onion
1 tablespoon granulated garlic
1 tablespoon crushed red pepper flakes
2 tablespoons paprika
1 tablespoon dill
1 tablespoon crushed coriander
**Remember with the salt that 1.5 tablespoons of Kosher salt provides less salt than two tablespoons of regular salt. It's flaky; takes less to fill a spoon. If you use regular salt, this would definitely be too salty~ adjust accordingly!
Fred likes a nice Flat Iron cut but this marinade is also delicious on any cut- Tri Tip, Flank, even kabobs. Sprinkle Sally's Steak Seasoning on both sides of your steak and let it rest. In the meantime, pour youself a glass of Schweiger wine. Add the soy and Cabernet into a gallon ziplock bag, and then put your meat in as well. Seal the bag and let it rest in the fridge for at least an hour, before grilling to your preference. Cheers!
Comments
Commenting has been turned off.