July 13, 2016 | Educational | Andy Schweiger
Portugal Journeys Part Six: A fun visit to Porto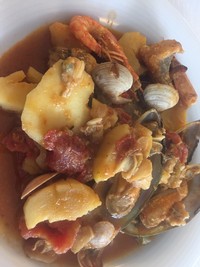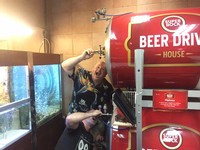 After our adventurous day of watching the harvest and checking out the resting and first processing, it was time for our crew to pile into the bus for the long trip North to Porto. What is probably a two and a half our ride by car or a three hour ride by bus; scratch that! It was a bus full of winemakers. With beer stops, four hours later, we pulled into Porto.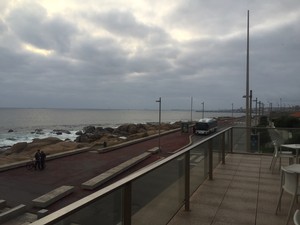 We got to appreciate several different aspects of Porto. First off was our welcome dinner in a beautiful restaurant overlooking the ocean. This was a fun treat for me as I realized it was my first time to look west into the Atlantic Ocean. The evening was a bit overcast, but the ocean promenade was beautiful and the after dinner cigars didn't hurt.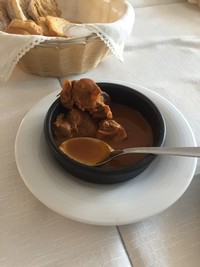 The next day was occupied with more M.A. Silva tours (more on the ne
xt post) and one of the most fantastic lunches of the trip. I've usually been a bit squeamish when it came to chicken "innards", but prepared in an amazing broth; I went for seconds. By this meal, stews of shellfish were becoming very common, but this one stood out above the rest.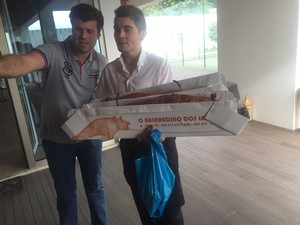 The remainder of the afternoon was spent at the home of Manuel Silva relaxing, sharing stories, sharing wine, and of course, sharing more food. My jaw dropped when late in the afternoon, very much in the style of pizza delivery, a man showed up with two suckling pigs!
A few days later, we returned to Porto, this time, to tour Graham's aging facility for a visit and tasting. Having produced a Cabernet Sauvignon "Port-style wine" for fifteen years, this was truly a highlight for me. Many of our group paid a bit extra to taste various vintages of older port wines. This region does quite a bit to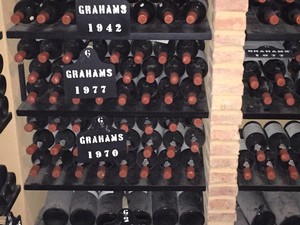 regulate and control quality year to year. For example, "Vintage Ports" can only come from years where the majority of producers agree that it was a standout year. If so, Portugal's Port Wine Institute "declares the vintage". While both my fathers' (1942) and my (1970) birth years are classified vintages, they were unavailable to purchase or taste. However, I was successful in walking out with birth year wines for both of my children, Jerry (2000) and Megan (2003). The other big education for me was concerning tawny ports. I had always (wrongly) assumed that a twenty-year port was Port from a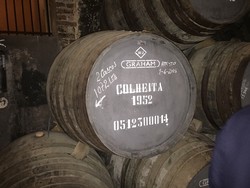 single vintage which had aged in barrel for twenty years. It turns out that it is an average of multiple vintages; a blend of freshly made port wines to forty year plus. It becomes a blending game of creating a consistent house style for their twenty, forty, and older tawny ports. With that education under my belt, I'm still pursuing my Schweiger "20 year" Port made from the 2009 vintage. If I haven't previously invited you, it will be released July 11, 2030. Yes, that's my sixtieth birthday; how's that for planning ahead?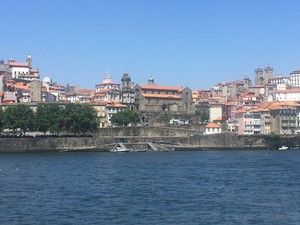 After our tour of Graham's, we had some free time to explore the "other side" of Porto. The vast majority of businesses, churches, and government buildings are all located on one bank of the river (this is where our hotel was earlier in the week).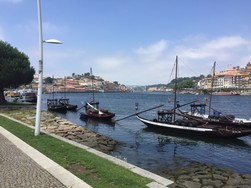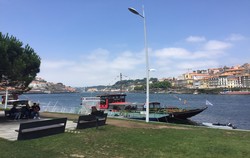 This side of the river today has historically been reserved for Wineries, Aging Cellars, Tasting Rooms, and of course Restaurants. Wines made in the Douro Valley age just under a year at the winery in the Douro. Before the next harvest comes in, they are transported down to Porto for aging. In days gone by, they were shipped on the deck of large barges. Today, this is done by tanker truck, but remnants of those days gone by remain. Each Port house has a historic barge still on the water today, displaying the flag of that producer.
As this beautiful sunny day came to a close, it was time for a short train ride back to Lisbon for (what we thought at the time) was to be the last night of our trip. More on that later when I discuss Lisbon.
Comments
Commenting has been turned off.