January 26, 2018 | Matt Denny
2017 At Schweiger - Harvest and the Year in Review
2017 – The year of our 34th harvest, record rainfall, record heat, a new wine is introduced, Fred turns 75, and wild fires in wine country. Here's the lowdown from up high on the Schweiger estate.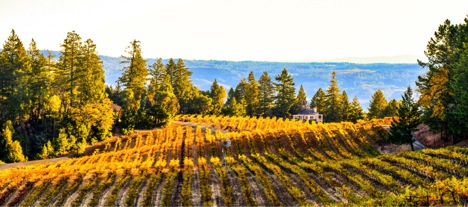 Singing (and farming) in the rain - 34 harvests in, you'd think we have seen it all, but this is when Mother Nature belly-laughs as she throws us a curve ball or two. It began with an end to the area's four-year drought when she gave us 87 inches of rain, over two times the annual rainfall average at the top of Spring Mountain. As we broke out the umbrellas for the first time in years, the vines were soaking in the water. This led to fast and furious vegetative growth in the canopy, and as a result, more labor intensive farming by Fred, Andy and crew throughout the growing season. Keeping the canopy balanced to provide the perfect amount of sun and shade to the fruit zone is crucial, and in typical Schweiger fashion we touched every vine at least four times to make sure this happened. Once the rain stopped, the sun graced us with its presence, although sporadically. As the temperature fluctuated from over 100 degrees one week to 70's the next, it made for an unpredictable year in terms of ripening and readiness for harvest. Despite this unpredictability, it was a dry summer and as always, we were up to the challenge. Our unique ability to farm the estate vineyards in-house rather than hiring outside consultants gives us a huge advantage; we give each vine the attention it needs and we pick when we want to pick. Despite the roller coaster ride of temperature variation, the fruit ripened beautifully, and we had a perfectly average yield from the vines.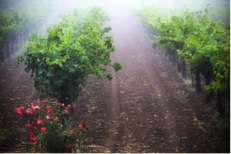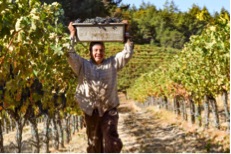 "Vintner is coming" – Harvest 2017! – Every September, early in the morning, Fred and Andy are somewhere deep in the vineyards with a Ziploc bag, selecting random grapes for sampling sugar, acid, and pH levels, flavor and tannin balance. They do this every single day until they agree that the fruit is perfect and ready for harvest. When they conclude that nature has given us ripe fruit, our A-team of vineyard workers gets the call from Fred: "Let's go". When the vineyard team arrives before daybreak the next day, the tractors are fired up and the crush pad is prepped by Andy and Becca to process grapes. Out in the vineyards, watching the picking crew is something to behold; they are fast, precise, and tireless. Just hours into daylight, bin after bin is filled with perfect, uniform grapes, and the fruit is de-stemmed and transferred to the stainless steel tanks. The smell of yeast and fermentation permeate the air. You can literally smell it while driving up and down the valley. This is the time of year when all of wine country is bubbling over with excitement. Locals love harvest season because we know what it means: this is our livelihood, our passion, and harvest is when it all comes together. It's like opening day in baseball when the grass is freshly cut and the fans are filling the seats with their hot dogs and $20 beers. This is when all the hard work in the offseason counts for something, and we know we've done all we can to grow the finest wine grapes in the world. On the Schweiger estate at 2,000 feet above Napa Valley, or as Sally Schweiger calls it, "half-way to heaven", our 2017 vintage is looking like one of our best yet.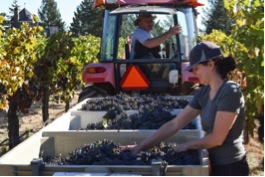 Premiere Napa Valley Auction – Every February, Napa Valley wine makers have the opportunity to show their stuff at Premiere Napa Valley, an important and exclusive trade auction that takes place annually in St. Helena. Andy showcased a special lot of single vineyard estate cab produced in a French "Perle" barrel, raising thousands of dollars for local hospitals! The 10 case lot of wine was among the best from Spring Mountain.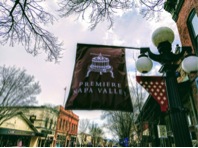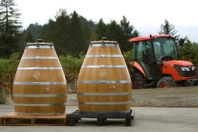 Napa Valley meets the Douro Valley with "Napuro" – Here are Andy's winemaker notes on his Chardonnay port-style wine project: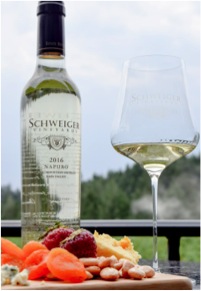 In the summer of 2015, one of my cork suppliers took me on a trip to Portugal. It was during this trip that I discovered the magic of White Port. During the harvest of 2015, while tasting our Chardonnay mid-fermentation, it occurred to me that if we could capture the aroma and flavors of this stage of the wine, it would be a transcendental experience. This resulted in an experiment in the 2016 harvest. About halfway through harvest, I combined fermenting Chardonnay juice with the brandy I had purchased for our 2016 Cabernet Sauvignon based dessert wine, Iteration. What resulted is an amazing dessert wine with honeysuckle, peach blossom and nectarine with a slightly sweet nectar flavor. Enjoy with your favorite pear tart, dried figs, or other magical creations.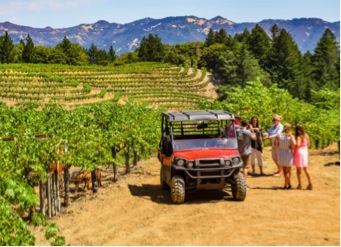 The All-Terrain Vineyard Experience – In 2017 we elevated our tour experience, literally. Taking advantage of the dramatic terrain and vistas that make up the Schweiger estate, we introduced the "All Terrain-Vineyard Experience". During what may be one of the most comprehensive vineyard and winery tours in Napa Valley, our guests explored the Chardonnay, Malbec, Merlot, Cab Franc and Cabernet Sauvignon vineyards in an All-Terrain Vehicle with proprietor and viticulturist Fred Schweiger, or with Winemaker and Viticulturist Andy Schweiger. They heard the stories of what it took to develop the property, enjoyed the views from our highest elevations, and tasted the wines in the vineyards from which they were harvested. We take so much pride in what we do here at Schweiger Vineyards, and we'll continue to share our passion as we offer this experience again in 2018.
The Epic Wild Fires – Despite many other exciting events, 2017 will be remembered for unprecedented wild fires in wine country. Through good fortune, we remained safe and untouched by flames here on the estate. This means the vines planted by the Schweiger family are intact, the buildings we built are still standing, and the 2017 harvest was officially declared smoke-taint free via lab testing. If you are concerned about the beauty of Napa Valley for your next trip here, don't be. It is as gorgeous as ever, and green grass now covers the hillsides and the mountains around the valley. We count our blessings every day and our hearts go out to those that lost so much. We'd also like to thank all of you that expressed your concern during such a difficult time. You truly are our "Extended Family".
Follow us on Instagram, Facebook, and Twitter for more photos and Schweiger news throughout the year. We hope to see you soon!
-The Schweiger Team
Comments
Commenting has been turned off.