November 14, 2016 | Educational, News | Andy Schweiger
2016 Harvest Recap
Another harvest is now behind us. The picking bins have been put away and covered. The tractors are all lubed and greased and resting inside the barn. Seed for a cover crop has been spread and since the last of the grapes came in, we've received over nine inches of rain. I thought it would be fitting to take a moment and share some of the fun and excitement of the harvest just ended.
Justin and I like to be READY when harvest starts. As early as the first week of August we were pulling lids off of tanks, cleaning picking bins, servicing equipment, and cleaning, cleaning cleaning! Fred and I removed the spray rig and got all the tractors set for their most important time of year. Yeast ordered? Check! Barrels delivered? Check! Beer refrigerator stocked? Check!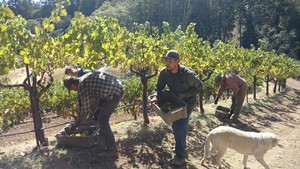 One thing I love about making Sauvignon Blanc is it gives us a chance to make sure everything is ready. Almost every year, Sauvignon Blanc is the first varietal we bring in. This year we harvested the SB on September 2nd (by great coincidence, the exact same date as the 2015 harvest). The nature of processing Sauvignon Blanc involves almost every single piece of equipment we own; destemmer, press, sorting table, glycol refrigeration, argon system, bungie cords, and sometimes even electrical tape!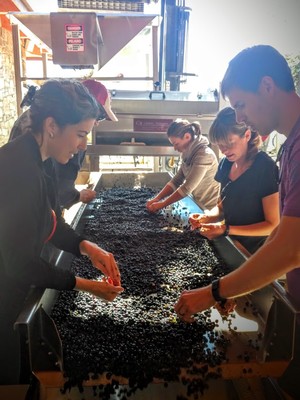 After bringing in the Sauvignon Blanc, the weather really cooled down, giving us two weeks to focus on racking the Sauvignon Blanc juice and monitoring its fermentation in barrel. We kept getting itchy, waiting to really start up harvest; you can't hurry nature and we were patient. We sampled, we waited. We sampled more, we waited more.
September 15 is when we really started to open the harvest gates. Over the next 15 days we harvested almost every day, bringing in over 65 ton. When you have this many consecutive fruit days you need to manage your time carefully. The day isn't only about farming. We would start the day getting the crew out picking at first light, then back inside to punch down and monitor fermentations. Some days we're also draining and shoveling a tank to press off. By 10 a.m. most days, enough grapes had been picked that it was time processing fruit. This is our second harvest with a sorting table. While it is incredible to have greater control over the quality of fruit coming in the winery, it does come at an expense…finding people willing to work the table for hours on end, watching fruit come bouncing by.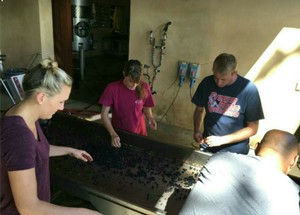 Not only did our office, sales, and tasting room staff do an amazing job at jumping in whenever possible, but staff spouses, children, and friends were here. Our volunteer crew did an amazing job at pulling wayward leaves and underdeveloped fruit before it found its way into the winery.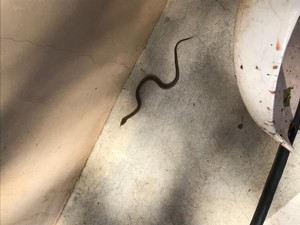 Adding to the normal excitement of harvest, a clutch of rattlesnake eggs hatched late September. Over a 6 day period we became hyperaware as each day it seemed we were spotting a few more of these 9 inch long varmint-terminators (so small that they had not developed rattles or the distinctive head shape). You definitely are on your toes for a few hours when you bend down to grab a water hose and find a small baby rattler right next to it. Our final count was 14 of these snakes. Thankfully, nobody (human or canine) was bitten…even better, it was an injury free harvest; sore muscles, tired brains, bruises and scratches requiring fewer than 9 stitches (electrical tape works wonders) do not count as accidents, right?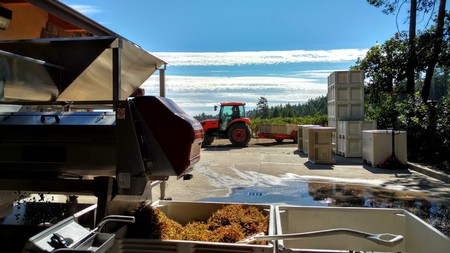 Every day, the quality of the fruit we were bringing in was amazing. Justin, Fred, and I are all very excited to see how this vintage develops. We have a few experiments with new barrels and even a few new products to be bringing to your dinner table in the years to come.
So, here we are today. Both the 2016 Sauvignon Blanc and Chardonnay have fermented dry and are aging in barrel. The red varietals are all going through malolactic fermentation; the earliest lots just completed last week and it looks like we are on target to be completely finished by the end of 2016. The vineyard is slowly going to sleep for the winter. If you have a moment, we'd love for you to come up and take a look; the leaves slowly changing yellow to orange to brown are not to be missed!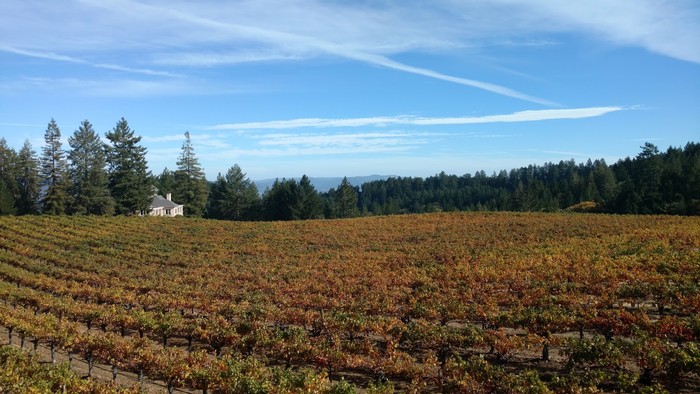 Comments
Commenting has been turned off.