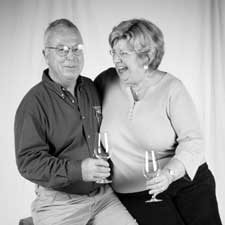 Co-Founders Fred and Sally Schweiger
Fred Schweiger
Founder & Vintner
Born and raised on the very last farm in in San Francisco, California, a young Fred Schweiger couldn't wait to help care for his grandparent's 160-acre vineyard in the rugged Santa Cruz Mountains during summertime. The Spring Mountain chapter of Fred's book begins in the late 1950's, when his parents purchased property in at that time unincorporated Napa County.
After Fred graduated from Lowell High School (where he met his future wife, Sally) he studied Forestry and Building & Construction Technology with a focus on Engineering. Years after successfully establishing Schweiger Construction, Inc. came a slow-down in the market as well as the opportunity to actualize a long-held dream: to clear and develop the family owned Spring Mountain property into vineyard.
Though Schweiger did not have a large fortune to invest in vineyard development, he persisted and proceeded to build access roads and develop a water system for the young vineyard. During the year and a half of careful and systematic clearing of the heavily forested, rolling hill parcel, Schweiger studied viticulture at the University of California, Davis and Santa Rosa Junior College. Additionally, he gained invaluable knowledge from recognized local vintners including Herman Hummel, Joe Cafaro and Laurie Wood. Vines were planted in 1981 and today there are 35 acres planted to wine grapes on the Schweiger Vineyards Estate.
In addition to developing Schweiger Vineyards from clearing to planting, Fred also managed the vineyard development at the neighboring properties of Paloma and Vineyard 7 and 8.
The majority of Fred's time is now focused on vineyard and winery management, and saying hello to the guests who visit Schweiger Vineyards. It is easy to see, Fred is a very hands-on kind of guy. From the water well dug by hand, to the concrete columns, to the chandeliers in the barrel room, the Estate was detailed and built by Fred himself with the help of family. The Schweiger family is proud to be one of the long-time property owners on Spring Mountain at nearly 53 years of ownership spanning four generations to live and work on the family Estate.

Sally Schweiger
Co-Founder
Sally was born and raised in San Francisco, CA. She attended Lowell High School (where she met her future husband, Fred) and went on to graduate from Concordia University in River Forest, IL. She taught elementary school in Fair Oaks and Santa Rosa, CA. After marrying Fred Schweiger in 1966, she gave birth to Diana in 1968 and Andrew in 1970. As a stay-at-home mom, Sally helped Fred by keeping the books for Schweiger Construction. As a couple, Sally and Fred started Schweiger Vineyards in 1979 and have been working together to make it a success ever since.